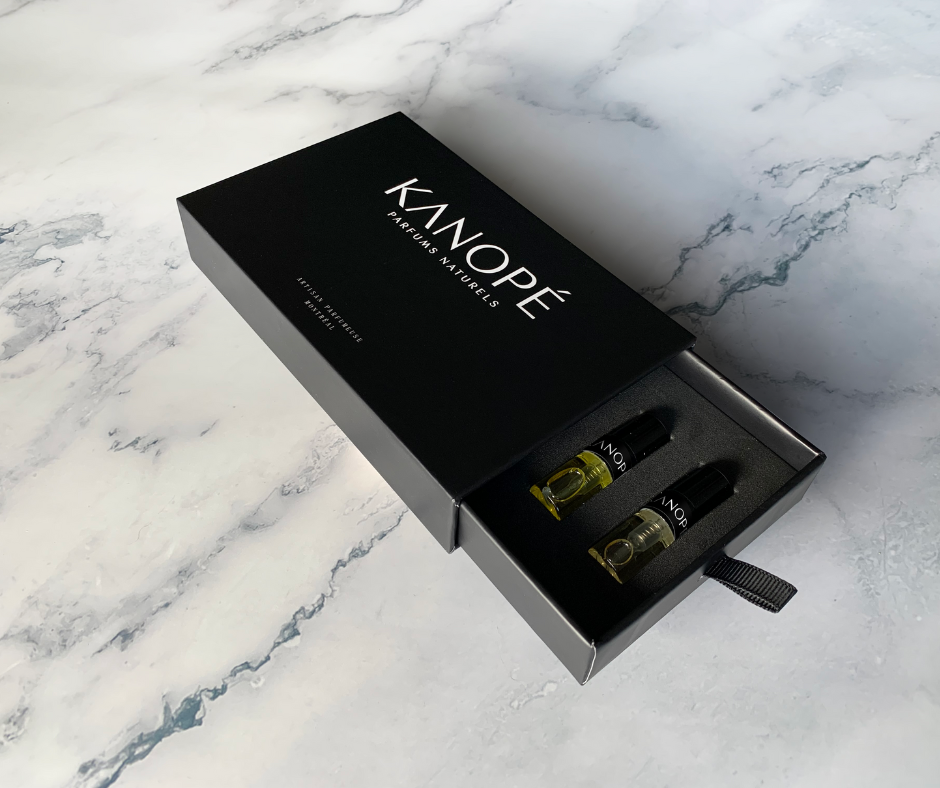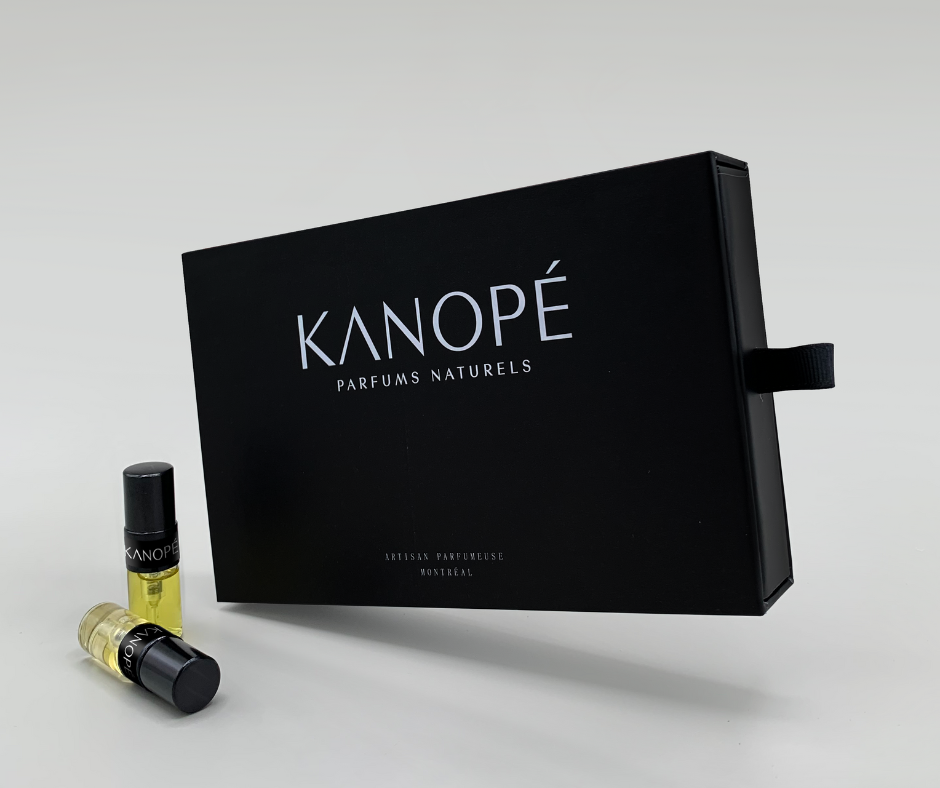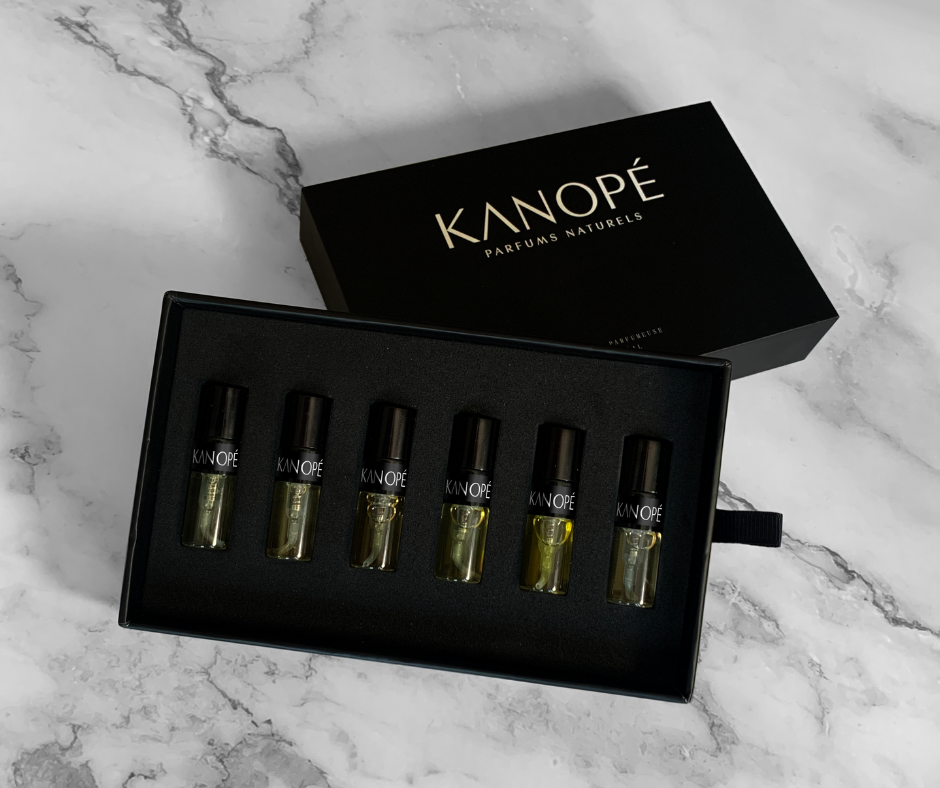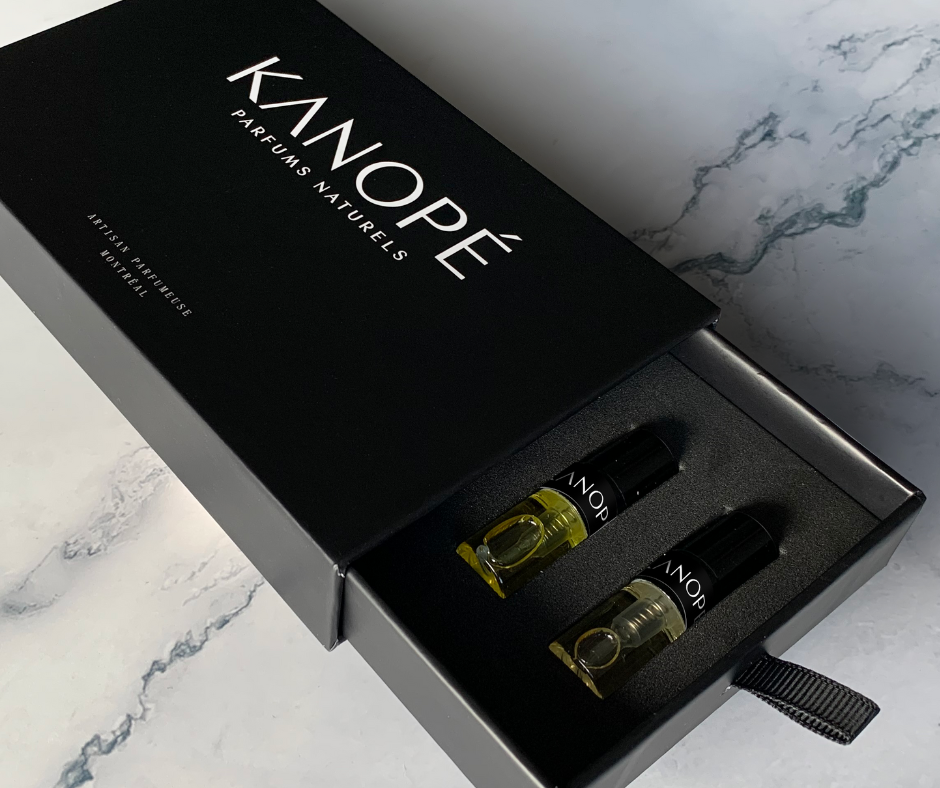 DISCOVERY BOX - LOVELY STORIES
Discover Kanopé's universe with a set 6x2ml fragrances selected for you.
Tandem : A refreshing and intoxicating explosion, where green tea meets the finely bitter smell of lime and the freshness of sweet mint. Its heart with a floral and fruity accord, in which the sensuality of the Magnolia flower plays with the mineral trail of incense, transports us to a subtle base with the powdery notes of ambrette. 
Delicate and seductive, Tandem will charm you with its wonderful feeling of escape on a sunny summer afternoon.  
Pas à Pas : A deliciously scented starry flower to pay tribute to exceptional women.
The fragrance opens with soft notes, slightly sweetened by the red tangerine and evolves into a floral harmony, where the bewitching Jasmine blends with the apricot scent of the Osmanthus flower. To finally envelop us in these amber notes with the delicious resins.
A luminous, rich and generous fragrance.
Secret :
 An olfactory journey to the heart of a secret garden.
A jar of sweetness where the sparkling notes of grapefruit mingle with the orange scents of red tangerine and this pretty plant with exotic notes, Davana. Dressed with a tender heart where the Rose, awakens its beauty and its voluptuousness.
It ends in a praline breath, with white amber and Tonka bean.
Two for Tea : Its opens with sunny, gourmand notes in an accord of chamomile, lime and bergamot. Its heart of spices, where the powerful trail of ginger mingles with the soft and warm aromas of cardamom and coriander, reveal a finely wooded base composed of Cedar wood and resins. An elixir of joy that is sure to awaken your senses. 
Horizon : Its sweet, tangy and sparkling start, thanks to the marriage of Bergamot and Neroli, evolves towards a tender heart, where cardamom offers us its wonderful oxygenating sensation that Damask Rose comes to dress with its velvety notes. To finally lulling us with oriental and powdery notes, where the amber smell of clary sage meets the camphor trail of incense and the praline sweetness of the Tonka bean.
Atao : Our journey begins in a fresh and sparkling accord, the luminous bergamot meets the finely bitter notes of lime.
In a surprising and mysterious olfactory marriage, the smoky and lemony resins intermingle with the beauty of Jasmine Sambac, to finally reveal the warm aromas of its lands with the marvelous Oak Moss. 
Composition: 
Entirely handmade in Canada
- 100% Pure Plant essences: Our perfumes are made exclusively with essential oils and absolutes.
- 99,9% Naturel: We use a perfume alcohol of vegetable origin, denatured with bitrex in very small quantities. Bitrex is the most bitter substance in the world, making alcohol undrinkable. It is approved by Ecocert.
- 100% Vegan and Cruelty-free: We're also very sensitive to the welfare of our animal friends, so it's inconceivable for us to use original materials coming from them such as musc, civette and castoreum.
- 100% Gender-neutral: We believe that fragrances are linked to our emotions and personality, not to our gender.
Our fragrances are made without any:
Synthetic moleculePhthalate, glycol or methanolParabensSulfatesEndocrine disruptors
Colorants
Concentration:
Reusable spray bottle 2ml

Eau de parfum 

concentration between 14 and 16%
---